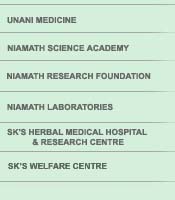 FACIAL PALSY (LAQWA)
The eagle is known as Laqwa in arabic. The muscles on the face of victims of facial palsy are pulled that which pulls their mouth outwards giving them a resemblance to a eagle's face. Hence the name Laqwa in arabic. Gallen, the Greek physician who supported the humoral doctrine stated that this disease could be due to a problem with a nerve in the face.
Both the sexes are equally affected. There is a prodromal stage during which the person can feel pain on the side of the face which is going to get affected. It continues for a day or two until the palsy develops. There is a paralysis of some of the facial muscles. It becomes difficult to close the eyes and mouth on the affected side. The skin on the affected side of the forehead gets stretched and over a period of time gets harder.
Rhazes emphasised the need for immediate treatment to obtain best results. Recovery is remote if treatment is started after six months.
TREATMENT
Aaqarqarha (Anacyclus pyrethrum,Dc) 2 gm, Zanjabeel (Zingiber officinale,Rose) 1 gm,Asl-us-soos(Glycyrrhiza glabra,Linn) 2 gm.
All the above ingredients are to be boiled in 100ml. of water until reduced to half their original quantity. This preparation is to be taken twice daily for 30 to 45 days.
Khulanjan (Alpinia galanga,Linn) 1 gm. Ustukhuddus (lavendula stoechas,Linn) 1 gm. Annisson (Pimpinella anisum,Linn)
2 gm.
They are to be similarly boiled till reduced to half the original quantity. To be taken twice daily for two months.
Zanjabeel (Zingiber officinale,Rose) 10, Lasun (garlic) (Allium sativum,Linn)15 gm, Til oil 100 ml.
All the above ingredients are to be roasted over the flame and then applied over the affected side, twice daily for six weeks.